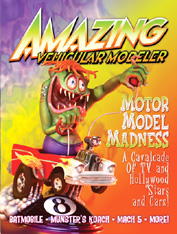 Article about building the Koach and Dragula model kits!
AMAZING VEHICULAR MODELER Modeling Special #1
From the producers of "Amazing Figure Modeler" magazine comes an exciting new publication that presents vehicular and figure modeling in a whole new fashion! America's favorite figure modeling magazine has revved up its engines to produce this special, full color 48 page magazine for all you modelers with a need for speed!
Featured back-to-back are 13 interesting and informative articles dedicated to creating, detailing and combining all sorts of vehicles, figures and dioramas. Build your own Batcopter or model the Batcave! Gas up Ed Roth's Mr. Gasser! Customize Elvira's Thunderbird or burn rubber with the Munsters Koach and Dragula! Race to the finish with the Mach 5 or spin out in a cemetery with Frankie's Fliver!
CLICK THE PICTURE TO ORDER THE MAGAZINE FROM AFM!
BTW: THEY HAVE OTHER MODELING STUFF, TOO!